Sell more automatically with the Lemgo vending machine
We advise you extensively and without obligation.
Contact us!
The machine for your sales promotion
Selling around the clock, not bearing personnel costs and offering good service - what business owner doesn't want that? Vending machines are practical and profitable. They can be placed almost anywhere, are suitable for a wide range of products and are easy to use. Your vending machine has no opening hours and can be used 24 hours a day.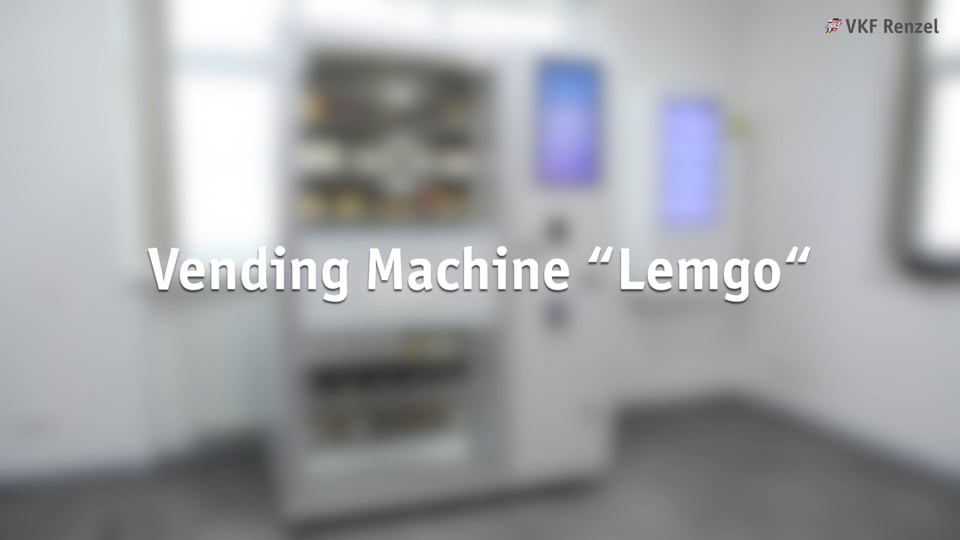 Advantages at a glance
When you think of sales promotion, vending machines are certainly not the first thing that comes to mind. Nevertheless, the various vending machines have a sales-promoting aspect that should not be underestimated. They offer a large advertising space and are very popular.

Moreover, the vending machines are easy to operate. The owner can check stocks online and plan with statistics. Discover in the following the many possibilities and advantages that a vending machine offers!
Payment methods
Contactless payment with card, Smartphone or Smartwatch
Adjustable temperature
built-in cooling up to 4° Celsius
Lift system
Careful transport of your goods and products
Online Planning
Define offers and discounts online
Warranty included
Two years warranty guaranteed
Cloud
Manageable, viewable and controllable online
Touchpad
Easy to operate due to modern touchscreen display
Shopping Cart Function
Several articles can be purchased simultaneously
One Lemgo - Many possibilities
Tailored to your area of application
The placement of the versatile vending machine not only offers many possibilities, but also a large branding space. It can be optimally used with an attractive foil. For this purpose the complete vending machine is foil wrapped. This way the "Lemgo" attracts attention even from a distance.
At the same time, the film wrapping can be ideally adapted to your products. Regional products can be equipped with a village shop motif or snack vending machines can be advertised with delicious sweets. Seasonal products can be advertised with a new design, because the foils are always renewable. The interior of the vending machine is also completely configurable. As an expert in sales promotion, we offer you an optional branding of the vending machine.
Advantages for you
Easy control of discounts and promotions
Sell 24/7 automatically
Up to 60 different products simultaneously available
Different shelf widths for offering different products
Theft protection optionally available
Exterior surface can be used as branding space through foiling (renewable)
Sensitive lift for the gentle dispensing of goods
Alignable through adjustable feet
Touch screen can be used for promotional videos, advertisements or up-selling
Create and advertise product packages
Images, videos and data can be stored in the cloud
Age check via identity card or EC card
Stocks and statistics available online
Different languages can be created
Advantages for your customers
Clear and user-friendly display
Back-friendly removal of products at a comfortable height
Attractive illumination of products by LED's
Different languages selectable
Display of products on the screen in groups or randomly
Accessible at any time
Cool and temperature controlled products available
Different payment methods
Contactless payment with EC card, Smartwatch or Smartphone
Shopping cart function: select several products, pay once
Attractive design
Clear product videos and product suggestions
Current offers and sale actions
Simple operation
Different payment methods
Customers have the option to choose from a variety of payment methods. Payment flexibility ranges from cash, credit cards to contactless payment.
Contactless payment
Contactless payment is not only hygienic, but simple, advanced and fast. Payment can be made by card, with a smartphone or even with the Smartwatch.
The right solution for every product
You want a machine that is perfectly tailored to your products? Well thought-out and sensitive conveying technology not only ensures sensitive handling of the product, but also enables the offering of a wide variety of products. The product is dispensed either by means of springs or by a conveyor belt.


Springs are used for products that do not have a firm stand on their own. Products with a firm stand can be ideally dispensed on a conveyor belt. The choice of conveyor technology is up to you and does not represent a price difference.
UV protection film
Sun protection for your products
With an appropriate protective film, your products are protected from UV rays and remain of high quality for a long time.
Privacy film
Ideal for the age test
Only in combination with the verified check of the age, the opaque film is made transparent.
Impact protection film
Protection against vandalism
Make your vending machine impact resistant with an appropriate film. This film provides effective protection against vandalism.
Today, customers are looking for innovation and flexibility. Flexibility in terms of payment options, opening hours and product selection. With vending machines you can sell flexibly and automatically. Firstly, both common and contactless payment methods are possible. Secondly, selling is possible outside business hours and customers do not have to stick to opening hours. Thirdly, different shelf widths allow you to offer products of different sizes without being tied to a fixed assortment.
Interactive touch screen display
The easy to use touch screen offers great opportunities for advertising and soliciting customers.
Back-friendly removal
A removal opening at a comfortable height makes the removal of the goods very back-friendly.
Service made by VKF Renzel
As an expert for electronic sales promotion with vending machines, we are at your side with advice and comprehensive service packages. With a large selection of accessories we enable you to perfectly decorate your vending machine. Through excellent service we show you how to use the vending machine in the best possible way. Benefit from the extensive service catalogue of VKF Renzel.
Online stock management
API interface
Video embedding by VKF
Online statistics
| Services | Basic 74.0006.5 | Premium 74.0006.6 |
| --- | --- | --- |
| Registration Cloud Access by VKF Renzel | ✓ | ✓ |
| Online data management | ✓ | ✓ |
| Online article maintenance (prices, pictures, texts) | ✓ | ✓ |
| View online inventory levels | ✓ | ✓ |
| Download online statistics | ✓ | ✓ |
| Manage online discounts & promotions | ✓ | ✓ |
| Automatic notification in case of shortfall in quantity | ✓ | ✓ |
| Manage multiple vending machines via cloud access | ✓ | ✓ |
| API interface for coupling to merchandise management | ✓ | ✓ |
| Receipt via e-mail to end customers | ✓ | ✓ |
| Initial installation by VKF Renzel* | | ✓ |
| Complete article system by VKF Renzel** | | ✓ |
| Embedding of videos by VKF Renzel** | | ✓ |
| Product integration in the vending machine and initial stocking | | ✓ |
| | | |
| Prices per year | 299€ | on request |
Sell more now automatically!
Detailed briefing
Comprehensive service package
Attractive design
State-of-the-art technology
Vending machines such as snack vending machines, drink vending machines or egg vending machines allow you to buy and sell around the clock. Not only are they extremely popular with customers, but companies also benefit from vending machines in the same way. Position the vending machine tailored to your needs directly in front of your shop or independently in shopping centres, at railway stations or in pedestrian zones.

Decide now for a new, profitable and exclusive way of sales promotion. Make your inquiry for the vending machine "Lemgo".